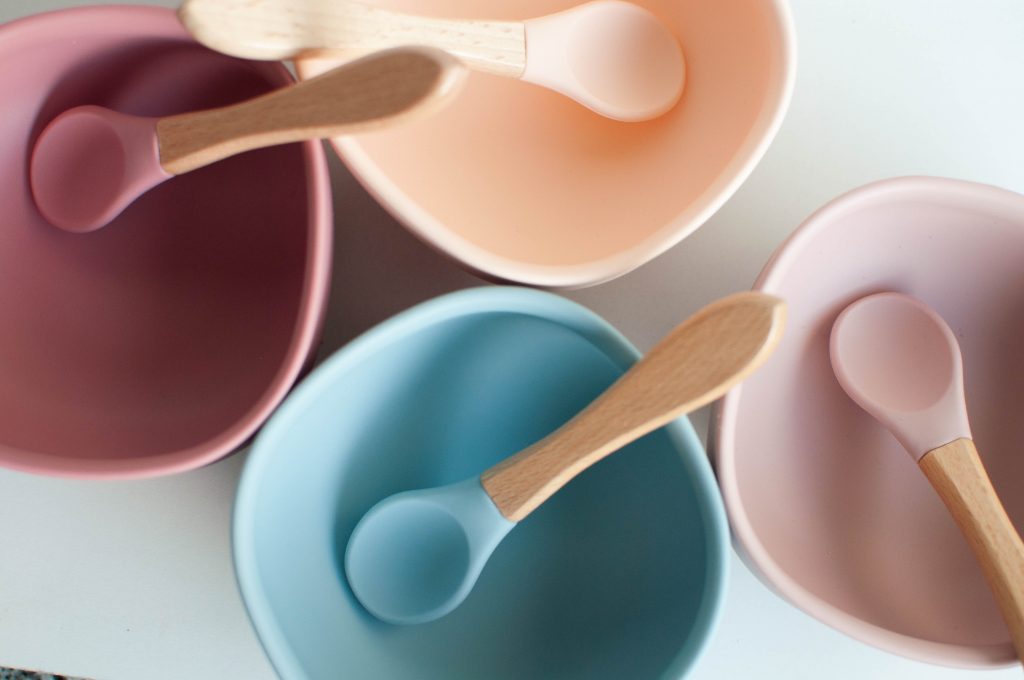 Picky eating. Is it frustrating or what?! You may think that as a Registered Dietitian, I would be immune to the frustrations that come with feeding a child. I am not! One day they're downing a hefty serving of what you thought was their favorite food, and the next? They want nothing to do with it. Or one day they seem to be ravenous and can't seem to get enough, while another day they throw it all on the floor. What gives? Today I'm going to provide you with 5 tips for picky eaters. My hope is that after reading this post you will have more reassurance and confidence in feeding your children and that you'll have a few practical take-homes to try. 
Before we get to those tips for picky eaters, I want to reassure you that you are not alone in this, and it is not your fault! Did you realize that picky eating is actually part of normal development in young children? As children get older, their growth rate slows down, which is often accompanied by picky behaviors. Let's look at some facts to put this into perspective. 
Your sweet newborn baby usually triples their birth weight by their first birthday and quadruples their weight by the time they turn two.1 From their second birthday up to puberty, they begin to grow at a slower and more steady rate–an average of 4.6-6.5 lbs per year.2 As growth slows, it's not uncommon for appetite to follow suit. It's often right around this age when growth starts to slow that picky eating seems to develop. Remember that picky eating is usually a temporary behavior and part of normal development in young children. But that doesn't mean you just have to wait it out.
Let's dive into these tips for picky eaters!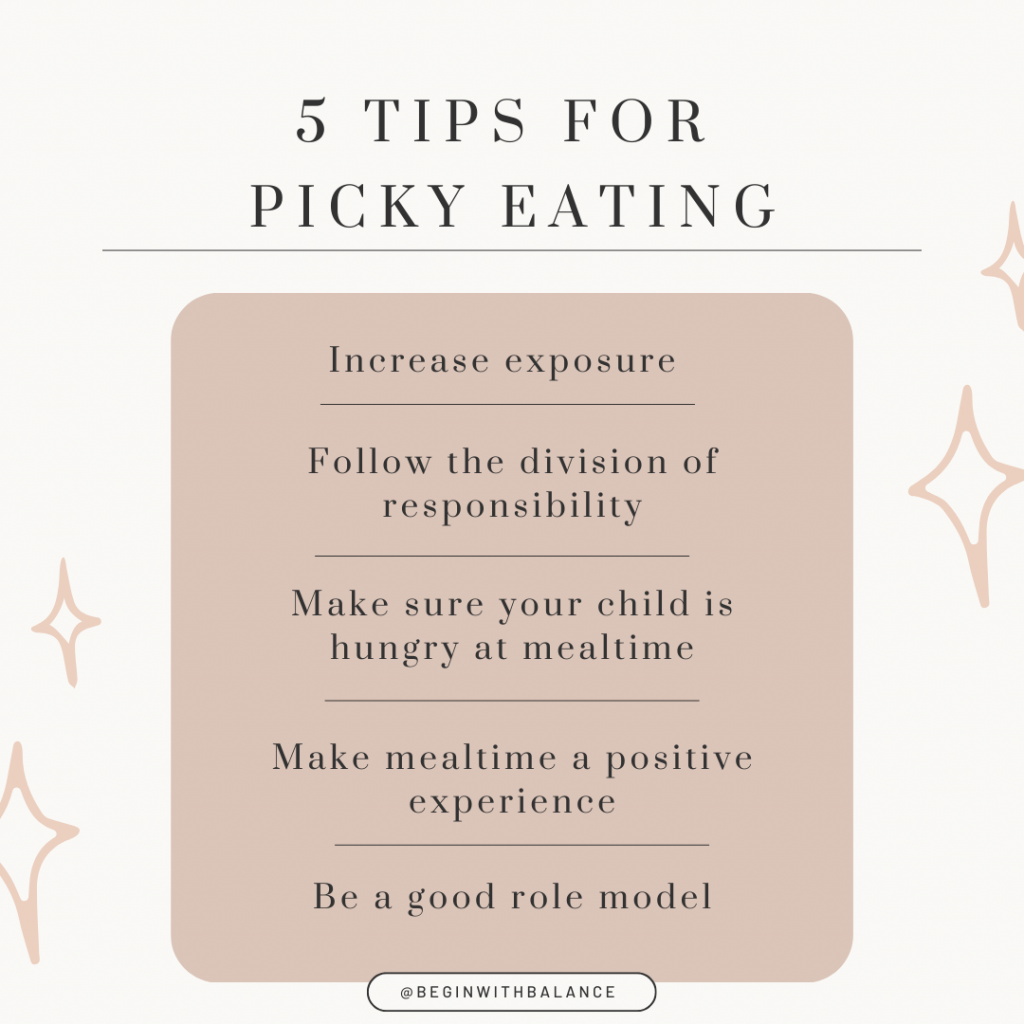 Tip #1: Increase Exposure
If your child rejects a food, don't take it as a sign to take it off of the menu forever. Research has shown that it can actually take as many as 8–15 exposures to a new food before a child will gain acceptance of the food.3 Once your infant starts solids, expose them to as many foods as possible as they are more likely to accept new foods during this time. Also, keep in mind that it's not uncommon for a child's tastes and preferences to regularly change. However, don't stop offering something simply because they stop taking it!
So, what exactly counts as exposure? The good news is, it isn't as rigid of a definition as you might think. It's not limited to putting the food on a plate in front of your child. Here are a few ideas for how you can increase exposure to new foods with your children:

Ideas to increase food exposure
Have your child participate in picking out new food items at the grocery store. If you're shopping for a few apples, for example, let them pick out the apples you will purchase.
Let your child watch you eat the new food. Modeling is an important part of their learning. (See the last tip below!)
Have your child be present in the kitchen while food is being prepared. This will give them an opportunity to see the food, smell the food, and potentially touch the food as well. You can have them participate in the preparation of a meal or snack in some way, such as by mixing or stirring. You can also try using a kitchen helper stool for your little one to use while participating in the cooking process!
Let your child help dish up their own plate.
Prepare food in different and fun ways.

There are so many ways to prepare foods–raw, roasted, boiled, sauteed, steamed, or baked to name a few. You can also cut food into fun shapes with cookie cutters, place it onto sticks or kabobs, or place food on a plate to create a smiley face. Food can look, feel, smell, and taste differently depending on the way that it is prepared.
It's also important to remember that children will often participate in exploratory behaviors with each exposure before accepting a food. So when you do put a new food on the plate in front of them, remember that success isn't only measured by them putting the food in their mouth, chewing it, and swallowing it. This exploratory behavior might include smelling the food, touching the food, licking the food, playing with the food, or putting the food in their mouth and spitting it out. All of these behaviors increase exposure to the new food and allow your child to gain a greater understanding of the food by experiencing it through their different senses.
Tip #2: Follow the Division of Responsibility
The Division of Responsibility (DOR) is a term coined by Ellyn Satter, a Registered Dietitian, family therapist, and internationally recognized authority on eating and feeding. (Keep an eye out for a more detailed post on DOR in the future!)
The DOR is the gold standard for feeding children and clearly divides the feeding and eating responsibilities between parent and child. The DOR encourages parents to take charge in the what, when, and where of the feeding and the children to determine how much and whether to eat what you have provided. Following the DOR provides structure/boundaries, autonomy, and builds trust in the parent-child feeding relationship.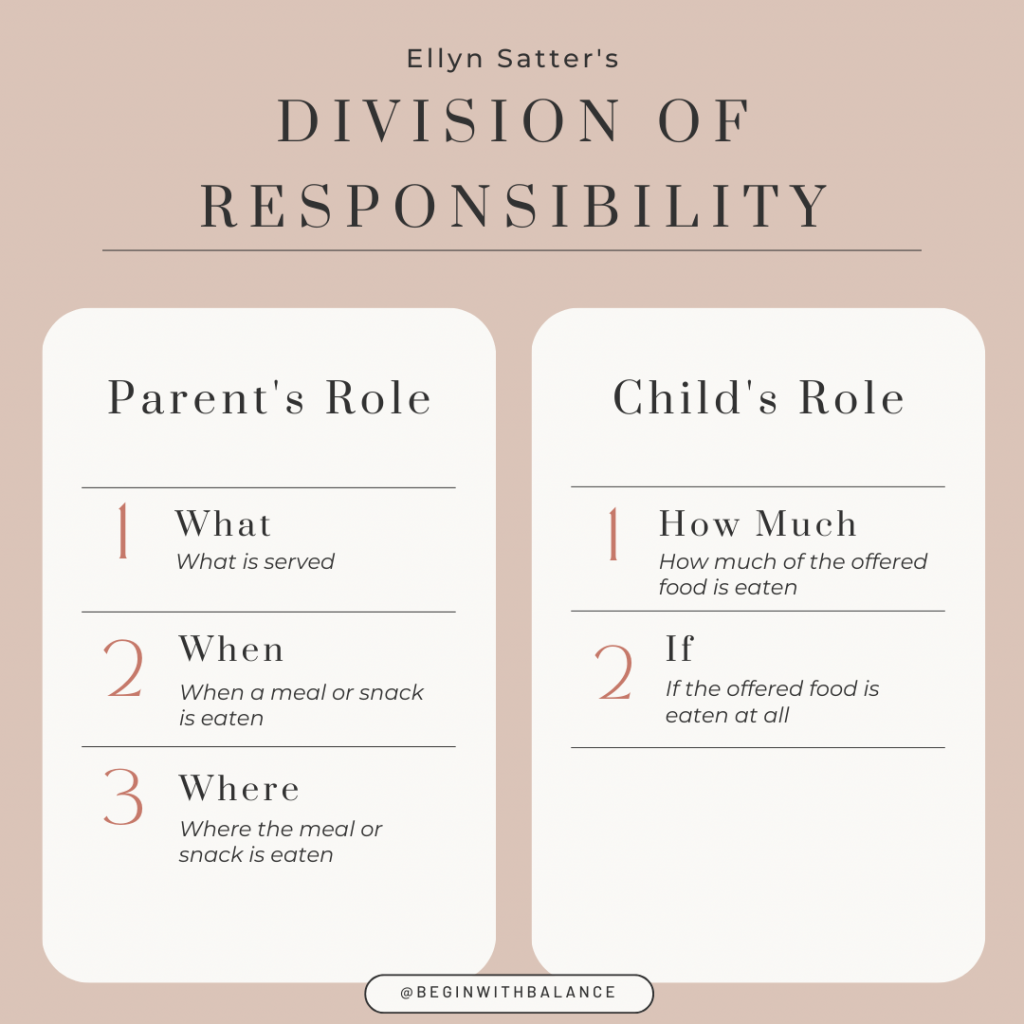 Continue to offer a wide variety of foods, and offer the same foods for the entire family–there is no need to be a "short-order cook" here! You get to choose what your children eat, and they can choose how much and whether they will eat the food you have offered. I know it might sound nerve-wracking, and you might be thinking, "My child isn't going to eat anything, they'll starve!" Take a deep breath and remember that children have an innate ability to regulate their intake. Put trust in your child that they know how to provide their body with what it needs. Keep in mind that a child's intake varies day-to-day and meal-to-meal. If they eat less one day, they often innately increase their intake another day. Try gauging their intake over a period of a week rather than a day and you will likely notice that it balances out over time! As you practice implementing the DOR, your child will learn the roles of parent and child in the feeding/eating process as well.
Here are a few strategies you can take with you to help you ease into the DOR.
Give your child a structured choice. This might look something like, "Would you like to try tomato sauce with garlic bread or with pasta at dinner tonight?" or "Would you like cauliflower or broccoli with your lunch?" This type of structured choice sets the expectation for your child that you are going to serve tomato sauce or one of the vegetables listed above, but it also gives them an opportunity to participate.
Only offer one new food at a time to prevent your child from feeling overwhelmed. Serve the new food with one of your child's "safe foods"—meaning food that you know they usually accept.
You can read more about Ellyn Satter and the Division of Responsibility using her book, Child of Mine, or on her official website. 
Tip #3: Make Sure Your Child is Hungry at Mealtime
If your child isn't coming to mealtime feeling hungry, the mealtime "battle" might ensue. Their lessened appetite is likely to result in a lack of interest in food, especially foods they are unfamiliar with or uncomfortable with. Therefore, introducing new foods is much more difficult (and you might find them revisiting the floor time and time again).
If this is a battle you have been fighting, take a look at what your child is eating and drinking between meals. When children are snacking all day long or are filling up on liquids in between or right before meals, they likely won't be hungry for their next meal. It's helpful to have some structure to meal and snacktimes (remember, with the DOR you are responsible for the when of mealtime!). This might look like having 3 meals and 2-3 snacks per day, usually spaced 2-3 hours apart.
It is also helpful to limit beverages in between meals and snacks to water only. If your child is sipping on milk all day long, it is likely filling their tummy and reducing their intake of solid foods. You can also try offering milk or water near the end of a meal so they are able to fill up on solid foods first.
Tip #4: Make Mealtime a Positive Experience
Making mealtime a positive experience for your child makes a world of difference in their response to the foods that are offered. If your child feels a negative association with mealtime, they are likely to have negative feelings towards eating as well. Here are a few ideas for how to make mealtime more enjoyable:
Establish structure during mealtimes
As mentioned in tip #3, mealtime structure has been shown to be an important factor in the level of picky eating a child experiences.4 Increased frequency of family meals, positive atmosphere of family meals, and mealtime structure have also been shown to play an important role in the prevention of eating disorders and depression.5,6
Try to eat meals around the same time each day and designate a specific location for meals.
Get everyone involved in mealtime preparation, such as helping to make the food or setting the table.
Limit distractions at mealtime
It is best to eat meals without the distraction of TV, phones, and toys. These distractions limit the opportunities to have positive conversations with your children. They also prevent you and your children from being able to tune in to the eating experience and pay attention to hunger and fullness cues.
Eat with your children and eat the same foods when possible
More on this below!
Don't pressure, bribe, or restrict foods
This one can be a challenge but is so important for maintaining a positive mealtime environment.
Try to refrain from pressuring your child to eat a certain food or a certain amount of food. Sure, they might eat a few more bites in the short term, but being pressured into eating can cause a negative association with certain foods and with mealtime in general. It can also be confusing to them as they are learning to understand their feelings of hunger and fullness. If they have stopped eating, they may have already eaten to their level of fullness–if we're pressuring them to eat more, it can make them feel confused and lose trust in their ability to recognize and respond to the cues their body is sending. They are responsible for how much and whether they will eat–let them take on this responsibility!
"If you finish your broccoli, then you can have dessert." Does this bribe sound familiar? While it is well-intentioned, this bribe reinforces the idea that the broccoli is yucky and dessert is superior. It's likely that a child will start to like the non-reward foods less and hold the reward foods in high regard. Our goal is to help our children see food on a level playing field and use their intuitive abilities to regulate their food intake. Next time you serve dinner, try offering dessert on the same plate as all the other foods!
Restricting foods often leads to the "forbidden" food being more desired and appealing. Restriction can cause intense feelings of deprivation that can lead to uncontrollable cravings and often, overeating.
Tip #5: Be a Good Role Model
Children learn a lot by watching and observing the actions and behaviors of other people. This applies to eating as well and is one of the reasons why sitting down and eating meals together can have such a big impact. Food is more readily accepted by children when others around them are also enjoying the same type of food. So, offer your child a variety of healthful foods every day and eat right alongside them! This modeling highlights the enjoyment of these foods.
Another important part of being a good role model is refraining from sharing negative comments about food or your body around your children. They might think, "If mom doesn't like this food, then I won't like eat either–why try it?" or, "Dad said this food is "bad," so I shouldn't eat it." We want to give our children the opportunity to develop their own thoughts and opinions about food–how it tastes, how it makes them feel, etc.
Conclusion
Well, there you have it! I hope these five tips for picky eaters have been insightful and give you the confidence to go forward to fight those picky eating battles!
Lastly, remember that sometimes picky eating can be more than picky eating. There are other conditions and issues that can contribute to picky eating–food allergies or intolerances, gastroesophageal reflux disease, oral hypersensitivity, and developmental delays to name a few. If you are concerned that your child might have something else going on, speak with your doctor regarding your concerns.
Wishing you all the best with any picky eating endeavors you may encounter. You've got this!
---
If you liked this post, check out our post on How to Feed Your Baby During the First Two Years.
---
References
Lumen Learning. Lifespan Development: Physical Growth and Development in Newborns and Toddlers. NSCC; 2020. https://pressbooks.nscc.ca/lumenlife/chapter/physical-growth-and-development-in-newborns-and-toddlers/. Accessed February 7, 2023.
Anderson D, Bacon L, Carbo Z, et al. Texas Children's Hospital Pediatric Nutrition Reference Guide. 12th ed. Houston: Texas Children's Hospital; 2019.
Carruth BR, Ziegler PJ, Gordon A, Barr SI. Prevalence of picky eaters among infants and toddlers and their caregivers' decisions about offering a new food. J Am Diet Assoc. 2004;104(1 Suppl 1):s57-s64. doi:10.1016/j.jada.2003.10.024
Powell F, Farrow C, Meyer C, Haycraft E. The importance of mealtime structure for reducing child food fussiness. Matern Child Nutr. 2017;13(2):e12296. doi:10.1111/mcn.12296
Neumark-Sztainer D, Wall M, Story M, Fulkerson JA. Are family meal patterns associated with disordered eating behaviors among adolescents?. J Adolesc Health. 2004;35(5):350-359. doi:10.1016/j.jadohealth.2004.01.004
Hannah J. White, Emma Haycraft, Caroline Meyer. Family mealtimes and eating psychopathology: The role of anxiety and depression among adolescent girls and boys. Appetite. 2014;75:173-179. doi:10.1016/j.appet.2014.01.007.
Please note that this website does not provide medical advice. Any content provided by Begin With Balance is for informational purposes only and is not to be used as a substitute for medical advice or as diagnostic or treatment information. The information that is provided by Begin With Balance is created for a generalized audience. We understand that you or your child may have individual needs that are not considered in the information we provide. Begin With Balance does not provide professional advice to any users or their families. If you choose to engage in the information provided on this website, you do so at your own risk. Begin With Balance is not responsible for any adverse event that may result from engaging with our content. By using this website, you accept the responsibility for your own health and your family's health. Please seek the advice of your specific medical or healthcare professional with any questions you may have regarding your health or your family's health.