Jump to Recipe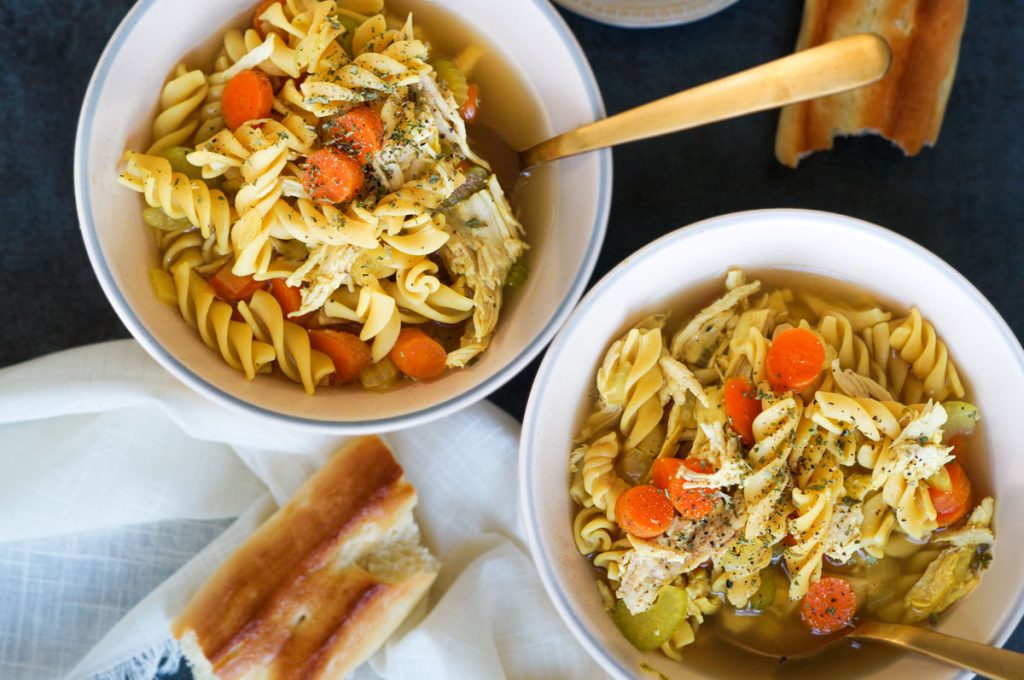 Growing up, our mom often made homemade chicken noodle soup. We ate the soup with fry bread drizzled with honey and it felt like perfection. Chicken noodle soup became an icon of comfort and warmth for us. As a result, whenever we were sick or it was cold out, homemade chicken noodle soup was our go-to dish to tackle those days.
That being said, we're excited to share our favorite chicken noodle soup recipe with you! My husband, who isn't the biggest fan of chicken noodle soup, said that this version was the best he had ever tasted. We couldn't agree more! In this recipe, you'll find the classic chicken noodle soup ingredients: chicken, noodles, onions, carrots, and celery. However, what really makes this chicken noodle soup special are the spices we include to bring more flavor.
So, in addition to salt and pepper, there are a few other spices we've incorporated here that really make the flavors pop. We like to include garlic, turmeric, and Italian seasoning in our chicken noodle soup. In addition to elevating the flavor of the broth, garlic and turmeric also have anti-inflammatory properties, making it the perfect soup for a day when you're feeling under the weather. Turmeric has a somewhat peppery, bitter flavor and gives the soup a beautiful, natural coloring. And for the Italian seasoning? Usually, Italian seasoning is a mixture of dried basil, dried oregano, dried thyme, dried rosemary, and dried marjoram. However, next time you go to the grocery store you might see a few variations on the classic Italian seasoning blend. It sometimes includes red pepper flakes, garlic, dried sage, or parsley. If you don't have Italian seasoning on hand, you can always make your own!
Needless to say, the spices in this soup really take it to the next level. Not only is this soup delicious, but it's also easy to make! You can do all the cooking in one pot. We are all for easy cleanup!
What ingredients do you need?
Chicken broth or bone broth
Boneless skinless chicken breast (pre-cooked or rotisserie chicken will also work)
Bay leaf
Turmeric
Salt
Black pepper
Garlic powder
Italian seasoning
Onion
Celery
Carrots
Noodles of your choice (Banza is what I used)
What equipment do you need?
For this recipe, you will need the following equipment:
Large pot with lid
Measuring cups and spoons
Cutting board and knife
Wooden spoon
Ladle for serving
How is it done?
First, pour the broth into a large pot and add the bay leaves and spices. Then, add the raw chicken to the pot and turn the stove to medium-high heat. We recommend cutting the chicken breast using the butterfly technique. This will help the chicken to cook more quickly and more evenly so you don't end up with tough, chewy chicken. Not sure what the butterfly technique looks like? Take a look at this video from Taste of Home for some help.
Once the broth, spices, and chicken are cooking, start dicing the onion, carrots, and celery. Add the diced vegetables to the pot. Continue to cook for about 10 more minutes on medium-high heat or until the chicken is cooked through and reaches an internal temperature of 165 degrees Fahrenheit. Once the chicken is done, pull it out of the soup and place it aside in a bowl or on a plate.
Next, add the uncooked noodles to the pot, stir, and cook for 8-10 minutes or according to the package directions.
While the noodles are cooking, head back to the now-cooked chicken that was set aside. Shred the chicken using two forks or a hand mixer. If you're in a time crunch, here's a tip to help speed up the cooking process even more. You can use the meat from a rotisserie chicken (fresh, refrigerated, or frozen) and add it to the soup in the final steps of the cooking process.
Once the noodles are al-dente, turn off the heat and remove the bay leaf. Add the chicken to the pot and stir well to distribute evenly. We love to pair this soup with some delicious crusty bread and a fresh salad. We hope you enjoy the best homemade chicken noodle soup!
Anything else to consider?
This recipe can be customized to your liking. If you're in a time crunch or only have precooked or rotisserie chicken on hand, feel free to use it! You will add it during the final steps of the cooking process. You can also use your favorite noodles in this recipe, like egg noodles, rotini noodles, Banza noodles, or fettuccine noodles.
Is it GF/DF?
Yes, this recipe can easily be made gluten and dairy-free! Ensure that you are using gluten-free noodles and chicken broth. As always, check each individual ingredient to ensure that it meets your dietary needs.
If you make this easy chicken noodle soup recipe, please let us know how it turns out in the comments below and/or rate the recipe! Don't forget to tag us on Instagram to show us your finished product—it makes our day every time we see you trying the recipes we love!
The Best Homemade Chicken Noodle Soup
Our favorite homemade chicken noodle soup recipe that is packed with flavor. Perfect for cold days, sick days, and any day in between.
Ingredients
10

cups

chicken broth or bone broth

1.5

lbs

boneless skinless chicken breast

1

whole

bay leaf

1/2

tsp

turmeric

1

tsp

salt

1/2

tsp

black pepper

1

tsp

minced or powdered garlic

2

tsp

Italian seasoning

1

medium yellow onion, diced

1

cup

celery, diced

2

cups

carrots, diced

3

cups

noodles of your choice (Banza is what I used, which is gluten-free* + higher in protein)
Instructions
Add the chicken broth, raw chicken breast, bayleaf, and spices to a large pot. Depending on the size of the chicken breast you are using, consider cutting the chicken in half (using the butterfly technique) to help the chicken cook more quickly and evenly.

Simmer the chicken breasts on medium-high heat for 5 minutes.

Next, add the diced onion, celery, and carrots to the broth mixture.

Simmer all together for about 10 minutes on medium-high heat, or until the chicken is cooked through and reaches an internal temperature of 165 degrees Fahrenheit.

Remove the cooked chicken breasts from the pot and place them aside in a bowl.

Add the uncooked pasta noodles to the broth mixture, and let the noodles cook for about 8-10 minutes or until tender.

While the noodles are cooking, shred the chicken with two forks or by using a mixer.

Once the noodles are cooked, turn off the heat. Remove the bay leaf.

Add the shredded chicken back into the soup and stir until combined. If you are using rotisserie chicken, add it in at this step. It is better to wait until the noodles are cooked and the soup is no longer boiling before adding the chicken back in. This will help to prevent the chicken from being overcooked and becoming tough.

Let the soup cool slightly before serving.
Notes
If you are in a time crunch, use shredded chicken from a rotisserie chicken in place of raw chicken breasts. 
*In order to make this recipe gluten-free, use gluten-free noodles such as Banza pasta (which is made from chickpeas). 
We often provide tips and suggestions for how a recipe can be created to be dairy-free, gluten-free, vegetarian, or vegan. It is your responsibility to select and use products as well as work in an environment that will meet those criteria. We are not responsible for any reaction or adverse event that may result from making our recipes.
Please note that the grams measurements will not automatically update when you double or triple the recipe. 
Nutrition Facts
The Best Homemade Chicken Noodle Soup
Serving Size
1 serving (16.5oz)
Amount per Serving
% Daily Value*
* Percent Daily Values are based on a 2000 calorie diet.
The recipe can be found on My Fitness Pal by searching "BWB Chicken Noodle Soup." Please note that the nutrition facts provided above are using Banza gluten-free pasta. If using regular pasta, search "BWB Chicken Noodle Soup (regular pasta)."
The nutrition content provided for each recipe is an estimate created through the My Fitness Pal database. Please be aware that the nutritional content of each recipe may vary based on the products you use, the precision of your measurements, and the source you use to obtain nutrition data. While we try to provide accurate information, we give no guarantee regarding the accuracy of the nutritional information provided.