Jump to Recipe
I've been mixing up my protein shake rotation lately and have discovered a few new go-to recipes. This tropical green protein smoothie is one of them! I love protein shakes because they only take a few minutes to create and are perfect for a busy morning. You can even make these smoothies ahead of time and freeze them in individual cups. The night before you plan to have one for breakfast, just let it thaw in the fridge overnight. Protein shakes are also a great post-workout recovery option. If you're skeptical of adding spinach to smoothies, I promise you will hardly even know it's there. The spinach just creates a vibrant green color!
What ingredients do you need?
Frozen Mango & Pineapple
Frozen mango and pineapple create the tropical vibe of the smoothie! The frozen fruit also helps to create a thicker consistency for the smoothie and prevents you from having to add too much ice and watering the smoothie down. If you buy the tropical fruit mix, feel free to just add 1 cup of the tropical fruit mix here.
Ice
Just the right amount of ice gives the smoothie the right texture without watering down the flavor.
Spinach
If you're skeptical of spinach in a smoothie, I promise you'll hardly know it's there! It's also a fun color if you're looking for a quick festive St. Patty's day breakfast. Spinach also contains iron which is great for everyone but especially the female athletes out there!
Unsweetened Coconut Milk or Almond Milk
Feel free to use either unsweetened coconut milk or almond milk here. Coconut milk highlights the tropical flavor best. I like to make my own coconut and almond milk weekly with the Almond Cow machine.
Vanilla Protein Powder
Feel free to use your favorite protein powder for this recipe! I will say, it is worth the money to buy a quality protein powder for the ingredients and taste. My favorite protein powder of all time is Truvani Plant-Based Protein powder. This is a great option for anyone who prefers a plant-based protein powder, but it is especially great for those who may have allergies to dairy, gluten, or soy. It's made from a blend of organic pea protein, organic pumpkin seed protein, and organic sunflower seed protein and is free from common allergens. Additionally, it contains no added sugar, artificial sweeteners, or artificial flavors, and is non-GMO and USDA-certified organic. It checks every box! Just ingredients and Clean and Simple Eats also have a protein powder I like.
Optional: Chia seeds and Ground Flax Seed
I always add a small amount of chia seeds and ground flax seeds to my smoothies. You won't even know it's there and both have added health benefits.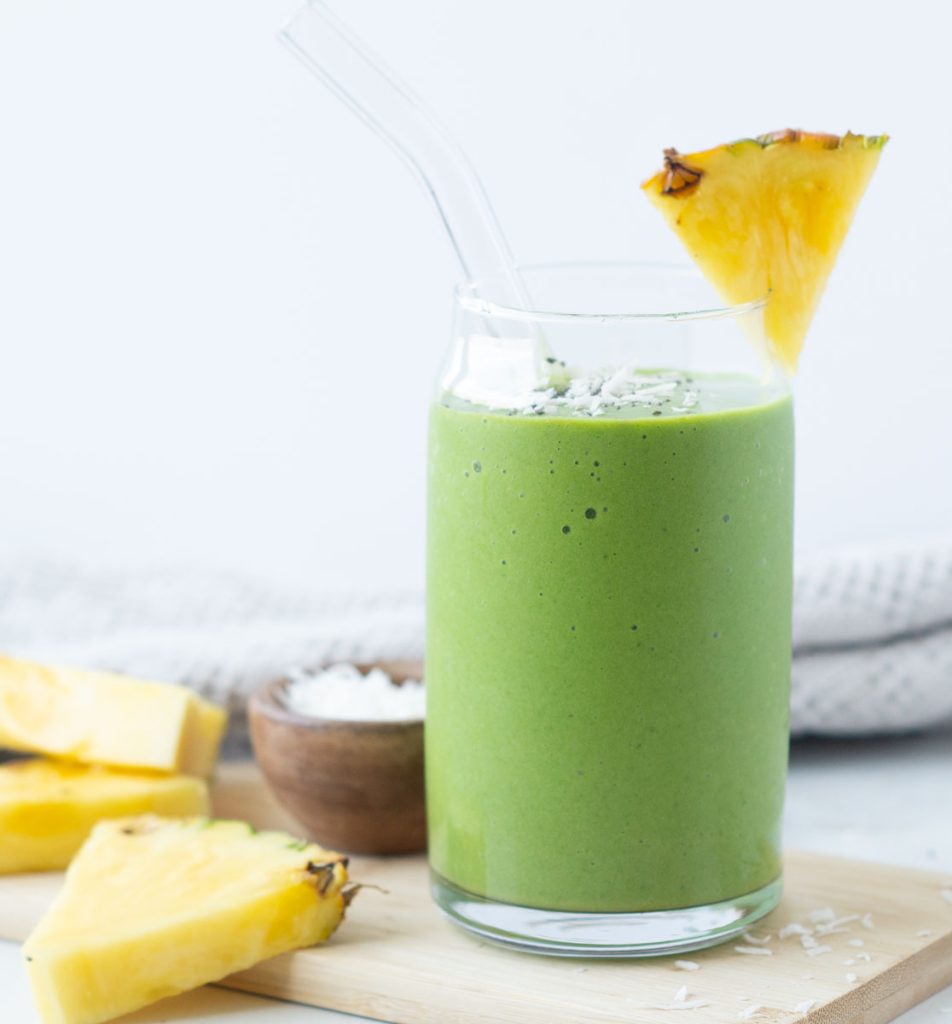 What equipment do you need?
You don't need much for this recipe! All you need is measuring cups, a blender, and serving cups. I have the Ninja countertop blender and I would highly recommend it! It makes individual-sized smoothies and makes cleaning up a breeze.
How is it done?
Simply measure your ingredients, add to a blender, and blend on high till smooth.
Anything else to consider?
If you want to prep these smoothies in advance, freeze them in individual cups. The night before the morning you plan to eat the smoothie, just place it in the fridge to thaw overnight. You could also measure out all of the ingredients except the almond milk into small bags and pop them in the freezer. When you're ready for a smoothie, simply add the contents of the bag to the blender and add the almond milk and blend.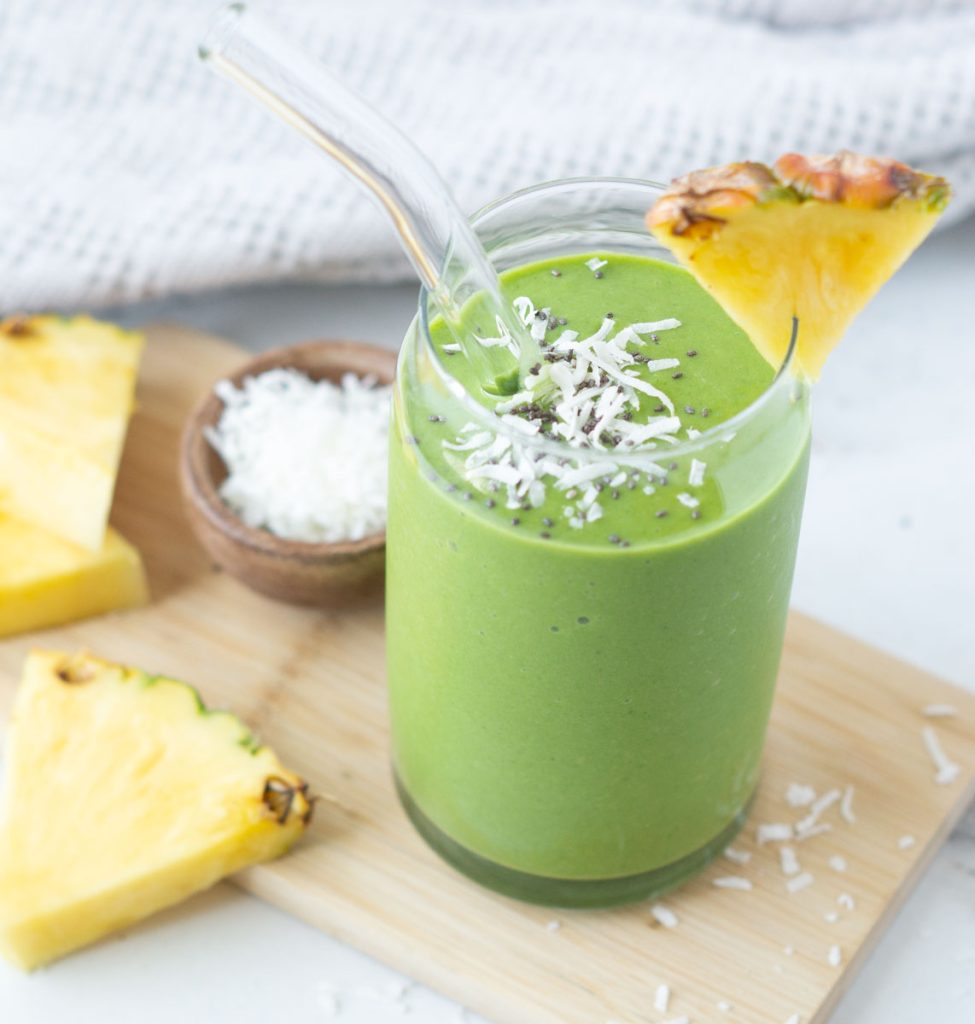 Is it (GF/DF/V/VEG)?
Yes, this recipe is GF, DF, Vegan, and Vegetarian! However, ensure that your protein powder meets your dietary needs. For DF, V, and Veg, use a plant-based protein powder.
If you make this protein smoothie, please let us know how it turns out in the comments below and/or rate the recipe! Don't forget to tag us on Instagram to show us your finished product—it makes our day every time we see you trying the recipes we love!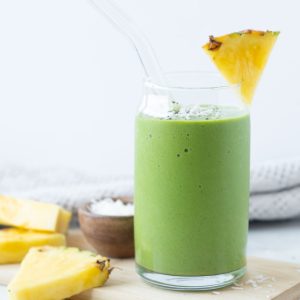 Tropical Green Protein Smoothie
This green protein smoothie takes on a tropical twist with the addition of pineapple and mango. It makes for the perfect, refreshing breakfast or snack!
Ingredients
1/2

cup

frozen mango

1/2

cup

frozen pineapple

1/3

cup

ice

1

cup

unsweetened coconut milk

(or almond milk)

2

cups

spinach

1/4

cup

vanilla protein powder

Optional: 1 tsp chia seed and/or 1 tbsp ground flax seed
Instructions
Measure out and place all ingredients into a blender.

Blend together until smooth.
Notes
We often provide tips and suggestions for how a recipe can be created to be dairy-free, gluten-free, vegetarian, or vegan. It is your responsibility to select and use products as well as work in an environment that will meet those criteria. We are not responsible for any reaction or adverse event that may result from making our recipes.
Nutrition Facts
Tropical Green Protein Smoothie
Amount per Serving
% Daily Value*
* Percent Daily Values are based on a 2000 calorie diet.
The recipe can be found on My Fitness Pal by searching "BWB Tropical Green Protein Smoothie." 
The nutrition content provided for each recipe is an estimate created through the My Fitness Pal database. Please be aware that the nutritional content of each recipe may vary based on the products you use, the precision of your measurements, and the source you use to obtain nutrition data. While we try to provide accurate information, we give no guarantee regarding the accuracy of the nutritional information provided.