Jump to Recipe
These blackened mahi mahi fish tacos are made with simple and fresh ingredients that pack a lot of flavor. They are topped with cilantro lime ranch, corn mango salsa, and any of your other favorite toppings!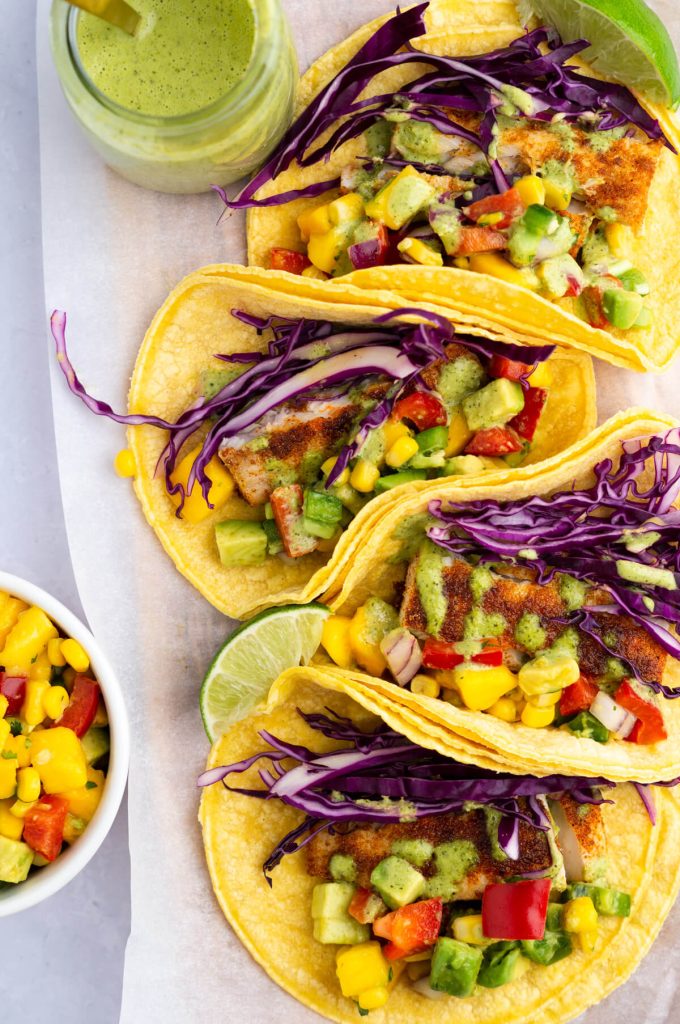 Why You'll Love This Recipe
In this recipe, you'll make your own delicious and easy blackened seasoning mix to season the fish and can choose from the toppings of your choice to make them exactly how you want! We recommend pairing them with our cilantro lime ranch and corn mango salsa for additional flavor or some fresh shredded cabbage to give a crunchy texture. They have quickly become a favorite dinner option in our home. So, whether you have a regularly scheduled taco Tuesday or are just wanting to add a taco night to the mix, these blackened mahi mahi tacos are a great option that is sure to make your taste buds happy. Let's dive into making the best fish tacos!
Ingredient Notes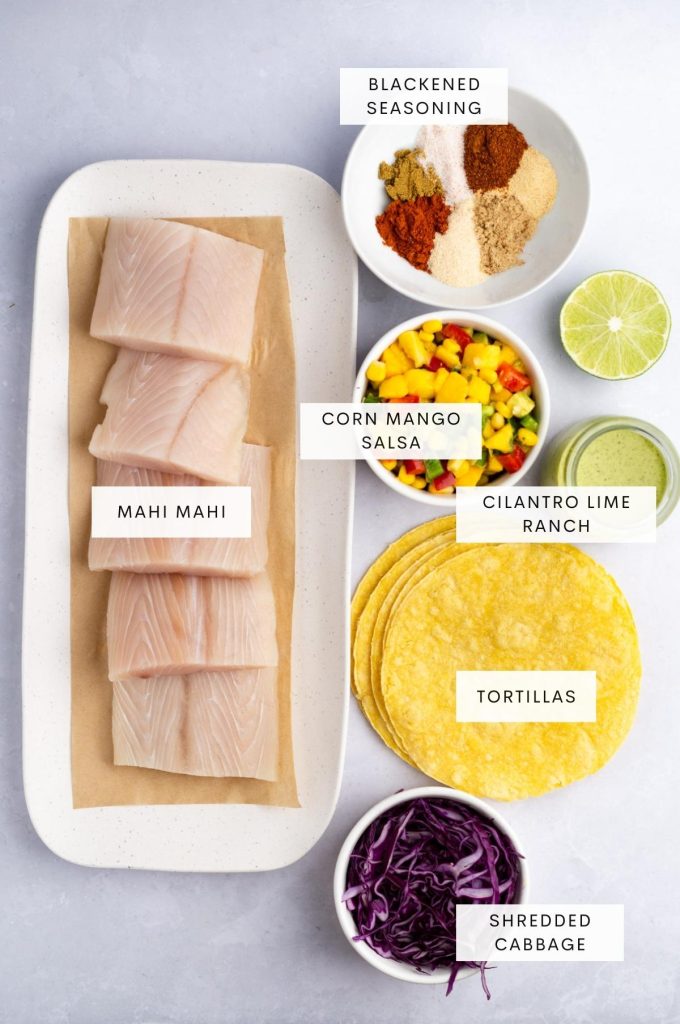 Mahi mahi - You can't have mahi-mahi tacos without the fish! Mahi mahi is a tropical fish that has a mild flavor that is also slightly sweet. You can use fresh mahi mahi or frozen. We like to use the mahi mahi you can find in the freezer section at Costco. If you don't have mahi mahi on hand or readily available at your grocery store, you can replace it with another type of white fish such as halibut, tilapia, or cod.
Spices for the blackened seasoning blend - The spices you will need to make the blackened seasoning are common spices that you likely already have on hand! You will need paprika, chili powder, onion powder, garlic powder, salt, cumin, and brown sugar.
Tortillas - Our favorite tortillas to use for these blackened mahi mahi fish tacos are warm corn tortillas. However, you can use your tortilla of choice! Other options include flour or almond flour tortillas.
Cilantro lime ranch - Click this link to the recipe for our creamy cilantro lime ranch dressing. All you need is fresh cilantro, freshly squeezed lime juice, and a bottle of ranch dressing.
Optional toppings - There are endless options when it comes to taco toppings, and they can add so much additional flavor and texture! Here are a few ideas to help you take your blackened mahi mahi tacos to the next level:

Pico de Gallo
Shredded raw cabbage (can use green or purple cabbage) or cabbage slaw
Pickled red onion
A squeeze of fresh lime juice from lime wedges
Cotija cheese
Cilantro leaves
A dollop of sour cream
See the recipe card below for a full list of ingredients and measurements.
Equipment You'll Need
To make this fish taco recipe you will need:
Measuring cups and spoons
A small bowl
An air fryer, parchment-lined baking sheet, or large nonstick skillet or cast iron pan (depending on your cooking method)
A blender or food processor to make the cilantro lime ranch.
A knife and cutting board depending on your topping choices
Step by Step Directions
For the full recipe instructions, scroll down to the recipe card at the bottom of the page.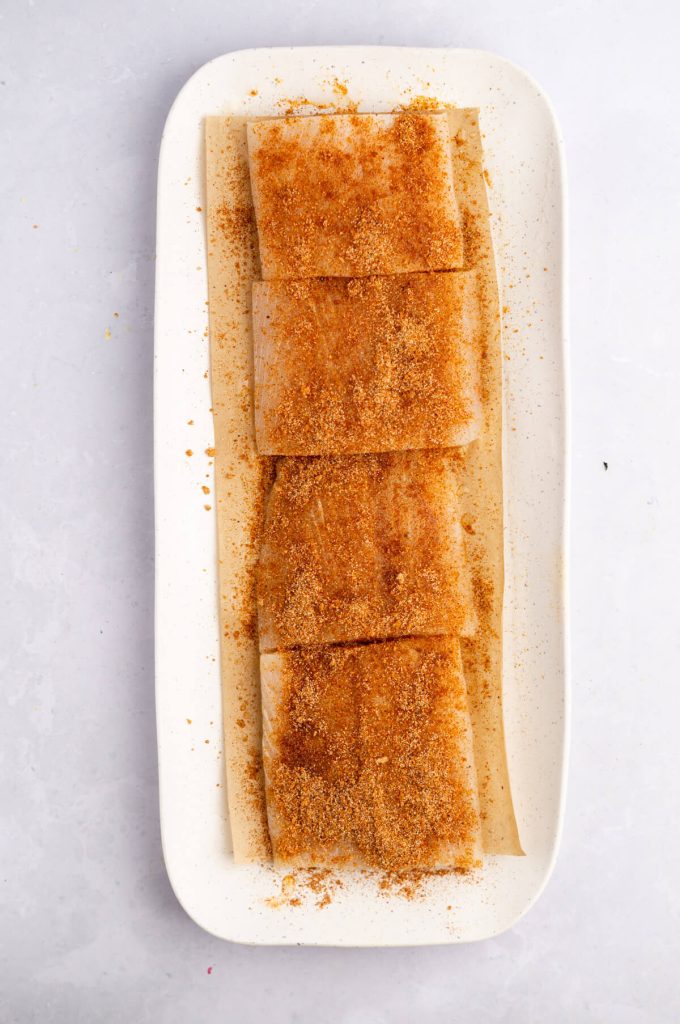 Step 1: Make the blackened seasoning. Spray each fish filet with non-stick spray or a drizzle of olive or avocado oil and coat liberally with the blackened seasoning.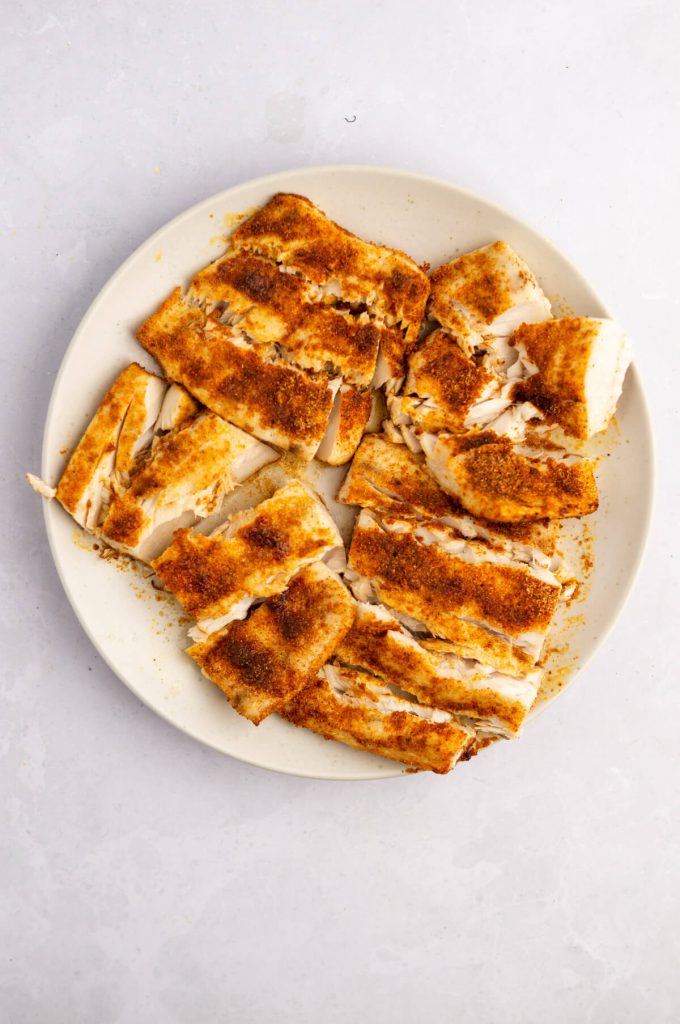 Step 2: Cook the fish filets (oven, stovetop, or air fryer). When the fish is cooked, use a fork to break it into smaller pieces.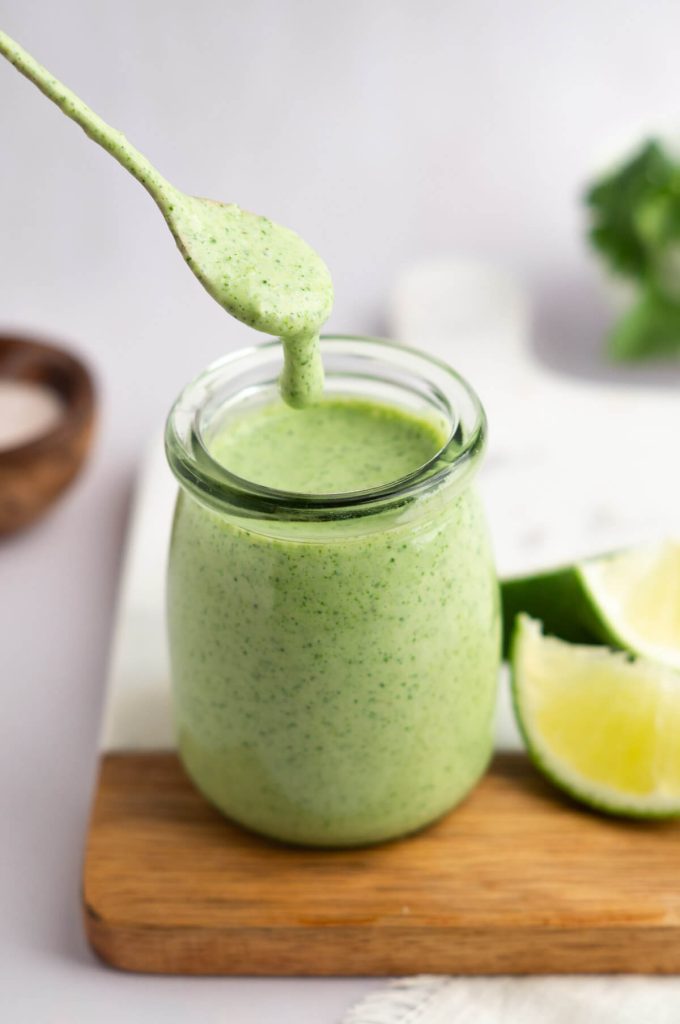 Step 3: Prepare the cilantro lime ranch and any other toppings you will be using. Warm the tortillas.
Step 4: Assemble the fish tacos by placing the fish down the center of the tortilla. Add toppings and the cilantro lime ranch. Enjoy!
Tips & Variations
If your fish is frozen, make sure you thaw it safely ahead of time! You can pull it out of the freezer and place it in the refrigerator the night before you make these tacos or thaw in a large bowl of cold water. Check out this website for more details on how to do this. We do not recommend thawing it in the microwave or by leaving it on the counter.
The variations of these tacos are endless thanks to a long list of topping options. If you want to make these fish tacos a little more tropical, add our favorite corn mango salsa on top. If you love avocado but want it to have a little more flavor, try out our crowd-favorite guacamole recipe. Looking for some crunch? Add some shredded raw cabbage or pickled red onions. There are so many ways to make these tacos exactly to your liking!
FAQ:
Do I have to use mahi mahi fish?
While we love mahi mahi fish for these tacos, you can substitute it for another white fish such as tilapia, halibut, or cod. 
What should I do if I have leftovers?
If you have leftover mahi mahi, we recommend storing it in an airtight container and separate from the toppings. We recommend eating the leftovers within 3 to 4 days. 
How do I reheat these tacos?
Simply place the fish on a microwave safe plate, cover with a paper towel, and microwave in 15-30 second increments until hot. Add to a warm corn tortilla and pair with your favorite toppings!
Are these blackened mahi mahi fish tacos gluten-free and dairy-free?
Yes, these tacos can easily be made both gluten- and dairy-free. For gluten-free, make sure you choose a gluten-free tortilla. For dairy-free, make sure you use a dairy-free ranch dressing in your cilantro lime ranch sauce and choose dairy-free toppings. 
---
If you like this recipe, check out some of our other favorite easy dinners:
If you make these blackened mahi mahi fish tacos, please let us know how they turn out in the comments below and/or rate the recipe! Don't forget to tag us on Instagram to show us your finished product—it makes our day every time we see you trying the recipes we love!
---
Blackened Mahi Mahi Fish Tacos
These blackened mahi mahi fish tacos are made with fresh, simple ingredients and are customizable thanks to a variety of topping options.
Ingredients
4,

6-ounce

Mahi Mahi filets (can substitute with any white fish)

Avocado or olive oil spray

10

tortillas (corn, flour, almond, etc.)

Cilantro lime ranch

(click here for recipe)

Any desired toppings: mango salsa, pico de gallo, guacamole, shredded raw cabbage, pickled red onion, freshly squeezed lime juice, cotija cheese, etc.
For the blackened seasoning:
1

tsp

paprika

1

tsp

chili powder

1

tsp

onion powder

1

tsp

garlic powder

1/2

tsp

salt

(depending on preference)

1/2

tsp

cumin

1

tsp

brown sugar
Instructions
If you are using frozen fish, make sure to thaw it before cooking.

Begin by making the blackened seasoning. Add all of the spices to a small bowl and combine. Pat dry each fish fillet with a paper towel. Then, spray the mahi mahi filets with avocado or olive oil spray. Sprinkle the filets liberally with the blackened seasoning. Coat the fish on all sides to have a well-seasoned fish.

Next, use the air fryer, oven, or stovetop to cook the mahi mahi filets.

For the air fryer:

Preheat the basket to 400 degrees and spray with avocado or olive oil spray to prevent sticking.

Add the filets to the basket in a single layer. You may need to cook two filets at a time depending on the size of your air fryer. Cook for 10-12 minutes, or until the mahi mahi reaches an internal temperature of 145 degrees and is flaky. Transfer to a plate.

For the oven:

Preheat the oven to 400 degrees Fahrenheit. Line a baking sheet with parchment paper for easy clean up. Add the filets to the baking sheet and bake for 20-25 minutes, or until the mahi mahi reaches an internal temperature of 145 degrees and is flaky. Transfer to a plate.

For the stovetop:

Place a non-stick or cast iron skillet on the stove and turn to medium-high heat. Spray the pan with non-stick spray.

Place the filets into the skillet and let sear for 3-4 minutes, until the bottom is golden brown and you can see the sides of the fish cooked about halfway up. Flip the filet to the other side and continue to cook for an additional 3-4 minutes or until the mahi mahi reaches an internal temperature of 145 degrees and is flaky. Transfer to a plate.

While the fish is cooking, prepare the cilantro lime sauce. Follow the recipe here. Warm the tortillas and prepare any taco toppings of your choice. We recommend raw shredded cabbage, guacamole, mango salsa, and a sauce of your choice.

When the fish is done cooking, use a fork to break it apart into smaller pieces. This will make it easier to serve in a taco. Add the fish, cilantro lime sauce, and any other desired toppings to your warm tortillas.
Notes
We often provide tips and suggestions for how a recipe can be created to be dairy-free, gluten-free, vegetarian, or vegan. It is your responsibility to select and use products as well as work in an environment that will meet those criteria. We are not responsible for any reaction or adverse event that may result from making our recipes.
Nutrition Facts
Blackened Mahi Mahi Fish Tacos
Serving Size
2 tacos with cilantro lime ranch
Amount per Serving
% Daily Value*
* Percent Daily Values are based on a 2000 calorie diet.
The recipe can be found on My Fitness Pal by searching "BWB Blackened Mahi Mahi Fish Tacos." The tacos are logged for the fish tacos without any toppings. The dressing can be found on My Fitness Pal by searching "BWB Cilantro Lime Ranch".
The nutrition content provided for each recipe is an estimate created through the My Fitness Pal database. Please be aware that the nutritional content of each recipe may vary based on the products you use, the precision of your measurements, and the source you use to obtain nutrition data. While we try to provide accurate information, we give no guarantee regarding the accuracy of the nutritional information provided.