Jump to Recipe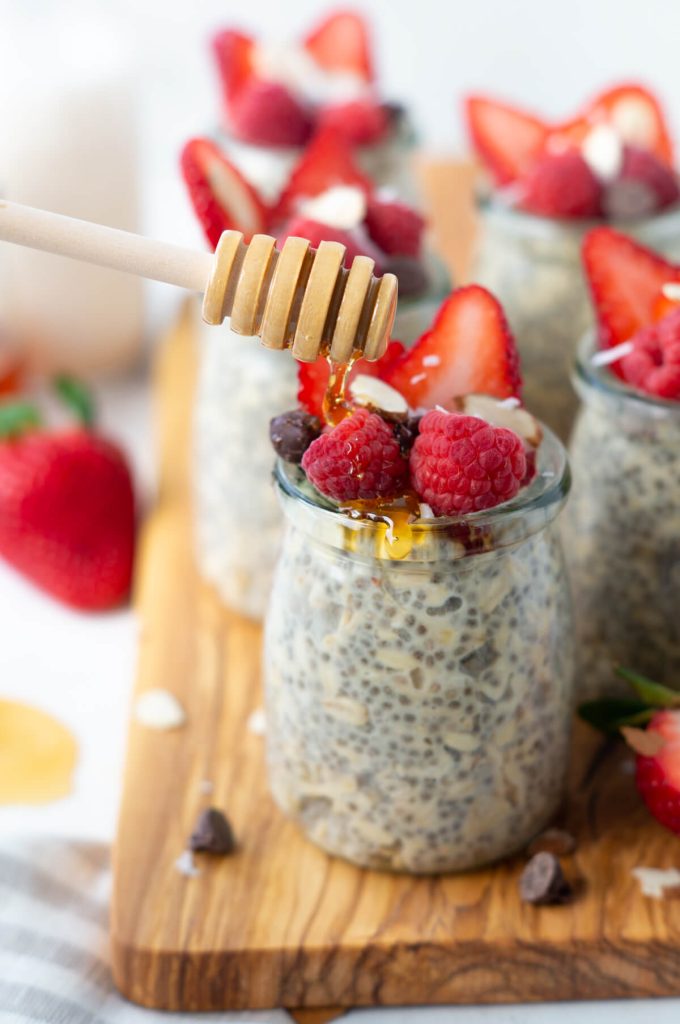 If you're looking for an easy breakfast option, you're going to love these high-protein overnight oats! This overnight oat recipe is made with simple ingredients like oats, greek yogurt, and chia seeds. The best part about this recipe is that all you have to do is mix the ingredients, store them in a jar overnight, and you will have breakfast ready in the morning. These overnight oats are a great way to have a quick, nutritious breakfast ready to go for busy mornings.
This make-ahead breakfast option is a good alternative to hot oatmeal. Take your basic overnight oats to the next level with the addition of Greek yogurt and toppings of your choice. You'll want to add this to your list of best protein oatmeal recipes! You can read more details below for our favorite tips and tricks or simply jump to the recipe card.
What ingredients do you need?
Old-Fashioned Rolled Oats
For this recipe, you need old-fashioned rolled oats. Don't use quick oats or steel-cut oats for this recipe, as the texture won't be the same. There are several health benefits of oats. Old-fashioned oats are whole grains and a great source of nutrients such as fiber, protein, iron, and zinc. Oats are a filling food due to their high fiber content, which makes them a great breakfast choice to fuel you throughout the day. The fiber helps them to be more slowly digested and absorbed, causing a slower rise in blood sugar levels, and keeping you feeling fuller longer. One cup of oats has about 7.5 grams of fiber.
Greek Yogurt
The extra protein in this high-protein oatmeal recipe comes from Greek yogurt. Greek yogurt is a great source of protein with an average of 15-20 grams of protein per serving. We recommend vanilla, but any flavor will work. If you use unsweetened yogurt, keep in mind that you may have to add additional sweetener to counteract the tart flavor of the yogurt. If you are sensitive or intolerant to dairy, just pick your favorite dairy-free yogurt. Siggis is our favorite brand of yogurt, and they have both dairy and dairy-free options. The Siggis dairy-free coconut yogurt is the best! Two Good is also a great higher protein option. Greek yogurt also helps to create a creamy texture compared to other overnight oat recipes.
Milk of Choice (Dairy or Non-Dairy Milk)
Feel free to use whatever milk you prefer for this recipe. Personally, we prefer to use almond milk. You could also use regular milk, soy milk, oat milk, or coconut milk. If you prefer a thicker overnight oats recipe, you can adjust the amount of milk you add. We prefer a consistency right in the middle- not too thick but not runny. You can always add additional milk in the morning if you need to adjust.
Vanilla Extract
Just a touch of vanilla extract provides the perfect extra flavor.
Optional Sweetener
Feel free to add whatever sweetener you desire the night before or the next morning. Honey and pure maple syrup are our favorite options. A few stevia drops would also work.
Other Optional Additions
This recipe can easily be customized to your personal preferences. A few of our favorite toppings include sliced almonds, hemp seeds, and fresh fruit like raspberries, peaches, bananas, strawberries, blueberries, and blackberries. Don't skip your favorite fruit! You could also add the fruit the night before instead of adding it fresh in the morning. Frozen fruit is also a great option and easy to have on hand without having to worry about expiration. We also love to add nut butter for healthy fats like almond butter, peanut butter, and Aloha Butter. If you have a nut allergy, you could opt for a sunflower seed butter.
While we opted not to add protein powder to this recipe, you can easily add some if you're looking for additional protein content. Two tablespoons of vanilla protein powder or chocolate protein powder will do the trick. Be aware that you may have to add a few more tablespoons of milk to get the desired consistency if you do add additional protein. Our favorite protein powder is Truvani, a plant-based protein powder. Feel free to use any type of protein powder, whey protein powder or plant-based protein will work great. This is a good high-protein option if you don't have yogurt on hand. Cottage cheese has also been all the talk lately, and you could definitely add blended cottage cheese to your oats.
If you're looking to make a chocolate peanut butter version, add a teaspoon of cocoa powder and a tablespoon of peanut butter. Prepare for a delicious breakfast the next morning!
What equipment do you need?
A small bowl or mason jar. If you're making several batches at once, use a large bowl!
Spoon to stir
Measuring cups and spoons
How do I make protein overnight oats?
In a mason jar or bowl, add all of the ingredients. Use a spoon to give the oats a good stir. Store overnight in the fridge, preferably in an air-tight container. The next day, add any desired toppings. This recipe is simple and the perfect way to create a high-protein breakfast.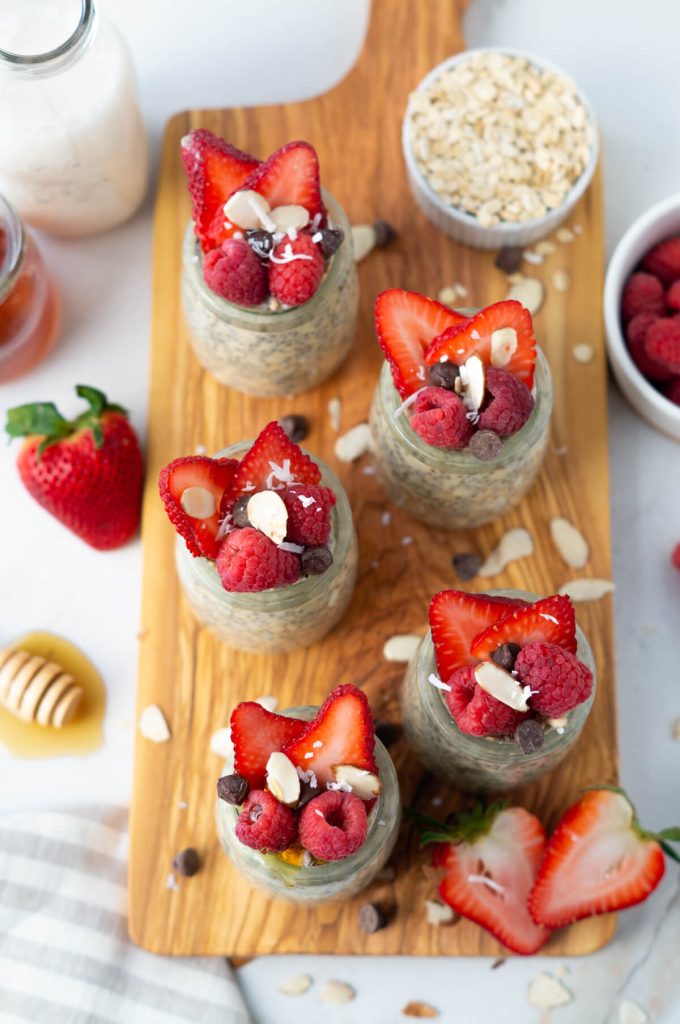 Anything else to consider?
This is a perfect breakfast recipe because it can be easily prepped ahead of time for the entire week. The best way to meal prep these oats is to store them in an airtight container. The protein oats will be ready to go all week! They will taste best for the following 4 days once you make them.
Are these overnight oats (GF/DF/V/VEG)?
​In order to make this breakfast gluten-free, ensure that you are using certified gluten-free oats.
To make this breakfast dairy-free, simply use non-dairy milk and yogurt.
For a vegan option, use a dairy-free alternative and omit the honey. This recipe is vegetarian.
As always, ensure that each individual ingredient meets your dietary needs.
---
We hope you enjoy this delicious bowl of oatmeal! If you like this recipe, check out our other high-protein breakfast recipes:
If you make these Protein Overnight Oats, please let us know how they turn out in the comments below and/or rate the recipe! Don't forget to tag us on Instagram to show us your finished product—it makes our day every time we see you trying the recipes we love!
---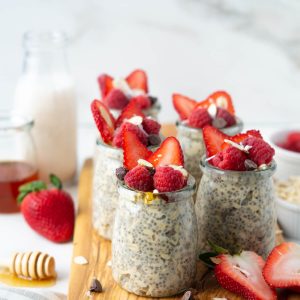 Protein Overnight Oats Without Protein Powder
These protein overnight oats are made without protein powder and use Greek yogurt for added protein. They make for a quick and easy breakfast!
Ingredients
1/3

cup

old-fashioned rolled oats

1

cup

Greek yogurt

(vanilla, berry, or mango are a few of our favorites)

2

tsp

chia seeds

1/3

cup

almond milk

Dash

of

cinnamon

1/4

tsp

vanilla

1

tbsp

honey or maple syrup, optional

(consider adding if you use unsweetened yogurt)

Any desired toppings: some of our favorites include sliced almonds, honey, nut butter, and fresh fruit.
Instructions
Add the rolled oats, greek yogurt, chia seeds, almond milk, cinnamon, vanilla, and sweetener (if desired) to a bowl or container.

Use a spoon to combine the ingredients well.

Seal the container or cover the bowl and store in the fridge. Refrigerate overnight or for at least 6 hours.

When you are ready to serve the oats, add any desired toppings.
Notes
We often provide tips and suggestions for how a recipe can be created to be dairy-free, gluten-free, vegetarian, or vegan. It is your responsibility to select and use products as well as work in an environment that will meet those criteria. We are not responsible for any reaction or adverse event that may result from making our recipes.
Nutrition Facts
Protein Overnight Oats Without Protein Powder
Amount per Serving
% Daily Value*
* Percent Daily Values are based on a 2000 calorie diet.
The recipe can be found on My Fitness Pal by searching "BWB Protein Overnight Oats." The nutrition is calculated using vanilla Two Good Greek Yogurt.
The nutrition content provided for each recipe is an estimate created through the My Fitness Pal database. Please be aware that the nutritional content of each recipe may vary based on the products you use, the precision of your measurements, and the source you use to obtain nutrition data. While we try to provide accurate information, we give no guarantee regarding the accuracy of the nutritional information provided.